Biro Kaji Visual George Town (BKVGT) / Bureau of Visual Studies George Town is a solo exhibition by Hoo Fan Chon. As the name suggests, BKVGT is a visual observation unit that focuses on various visual culture practices in George Town. The survey pool includes the municipal's visual aesthetic of self-representation, medicinal instant coffee packaging design, how photography was used by female impersonation performers, local Chinese folk belief, informal parking space booking system etc, sampled from places like the mamak stalls, kopitiams, vintage stores, government offices and streets of George Town. The BKVGT aims to study and understand these symbols as a form of visual communication, to make connections with local socio-historical contexts, and to reimagine alternative artistic interpretations. This on-going visual studies process will be presented in a mixed-media exhibition that features a mixture of paintings, silkscreen prints, relief wood carving, sculpture, photography works, video work along with ancillary programmes. Find out more about the exhibition here.
1.1 On Majlis Bandaraya Pulau Pinang's coat of arms
When I first moved to George Town, I could not help but notice the uncanny resemblance between the dolphins on the George Town Municipal coat of arms and the lamp posts along the Thames River in London. Then I started to find out more about the recurring motif of this highly stylised sea creature. The George Town Municipal Commission was officially established in 1857 by British colonial authorities. The original coat of arms of the Municipal Council of George Town was granted by the College of Arms, heraldic authorities in Britain, based on the arms of the Settlement of Penang in 1953. The present-day coat of arms for the Municipal Council of George Town (known since 2015 as thePenang Island City Council), while displayed on a native shield and contains much local symbolism, still generally conforms to traditional English heraldic principles. The continued use of the coat of arms as a visual representation of power is an example of inherited visual tradition introduced by the British colonial authorities. I was intrigued by the colonial and baroque aesthetics of the Penang Island City Council's (MBPP) coat of arms. A few of the key motifs draw its reference from Renaissance-era visual symbols, including the dolphin and ceremonial acanthus plant on the heraldic design. Both these motifs have little relevance to local socio-cultural contexts other than in reference to our colonial past. This work is thus a visual hypothesis to study the use of the coat of arms by governmental establishments and to investigate the possibilities of adapting Penang's existing coat of arms by introducing a few local visual symbols such as the mudskipper and the monkey cup plant.
1.2 The Dolphin as a recurring motif in European art and design
Dolphin lamp standards provide electric light along much of the Thames Embankment in London, United Kingdom. Two stylised dolphins or sturgeons writhe around the base of a standard lamp post, supporting a fluted column bearing electric lights in a white globe, topped by a metal crown. Many of the lamps are mounted on granite plinths.
The lamp posts were designed by George John Vulliamy and modelled by Charles Henry Mabey. They were based on statues of dolphins or fish with intertwined tails at the Fontana del Nettuno in the Piazza del Popolo in Rome, which was constructed in 1822–23.
(Source: Wikipedia)
1.3 Coat of arms
A coat of arms is a heraldic visual design on an escutcheon (i.e. shield), surcoat, or tabard. The coat of arms on an escutcheon forms the central element of the full heraldic achievement which in its whole consists of a shield, supporters, crest, and motto. A coat of arms is traditionally unique to an individual person, family, state, organization or corporation. Heraldic designs came into general use among western nobility in the 12th-century. Systematic, heritable heraldry had developed by the beginning of the 13th-century. The term coat of arms in origin refers to the surcoat with heraldic designs worn by combatants, especially in the knightly tournament.
(Source: Wikipedia)
1.3.1 The Symbolism And Significance Of The Embellishments Forming The Insignia
1. Malaysian Shield: The shield is of a kind identified with Malaysia.

2. Motto: In Bahasa Malaysia, the official language signifies Leadership Through Service.

3. Wreath Or Turban: The Wreath or turban is a heraldic symbol associated with the twisting of a head-gear of cloth such as that used by a Malay official and also the traditional turban with extending pendent ends as sometimes used by Malays and Indians in Penang.

4. Coconut Palm Tree: A tree commonly found in Penang, associated with homecraft, traditional dances, songs, pantuns, rustic bridges, cooking utensils, local cuisine, etc.

5. Barry Wavy: A heraldic symbol of water or the sea, portrays Penang's status as an island and dependence of its economy principally on the sea.

6. Dolphins: Another heraldic symbol associated with the sea. It symbolises the abundant marine life in the waters around Penang and it also depicts a joyous and happy mood associated with Penang's distinction as an international tourist destination.
Religion

7. Star And Crescent: The official religion of the State. The 5 points of the Star denote the five tenents of Islam.

Physical

8. Verdured Mount: This symbolises the hills that make up the backdrop in Penang's landscape scenery

9. Turban with Pendent Ends: The green and gold of the head-gear in the Crest also symbolises the verdant cloak of vegetation and the golden beaches of the state bathed in golden sunlight. It also symbolises its flourishing development.

History
10. Battlements: Penang's historic Fort Cornwallis. It also stands for Strength and Solidarity.

11. Motto: "Memimpin Sambil Berkhidmat" is an allusion to the motto of the erstwhile City Council of George Town "Leading We Serve". It is translated as "Through Service We Lead" or "Leading Whilst Serving".

(Source: MBPP website)

1.4 In search of a local heraldic fish species
Various names of mudskipper in Malay: Belacak, Ikan Tembakul, Ikan Selayar, Ikan Temba.
1.5 Batu Belah Batu Bertangkup / The Devouring Rock (1959)
Directed by Jamil Sulong
Starring: Aziz Jaafar, Zaiton, Neng Yatimah, S. Kadarisman
Produced by Malay Film Productions (Shaw Bros.)
Year of release: 1959
"Based on a Bangsawan (Malay opera/theatre) play, Batu Belah Batu Bertangkup tells the fantastical story of Mak Minah surrendering herself to a human-devouring rock after being bitterly irritated by her children's ingratitude towards her. Mak Minah (Neng Yatimah) craves, often to the point of desperation, for the roe of the ikan tembakul (giant mudskipper). To satisfy her craving, her husband goes to the mangrove river to fish for the rare ikan tembakul, and dies during a dangerous fishing trip to the swamps on a stormy night. To support the family, Mak Minah harvests nipah leaves at the nipah/attap palm plantation and make roof thatches out of them. Without her husband, Mak Minah also tries her hand at fishing for the desired ikan tembakul. Once, she is fortunate enough to catch one with the roe, but her daughter, under strict instructions from the mother to leave some for her, fails to stop her younger brother from eating all of the roe. Disappointed with her children, she dreams of ghostly hands beckoning her to go to a demonic rock. Seemingly possessed, she makes her way there and surrenders herself, walking into the mouth of the devouring rock. The rock shuts itself tight, and her children become wandering orphans…"
– Singapore Film Location Archive
Against the backdrop of an agrarian and feudal society, the hard to come by mudskipper's roe (or known as ikan tembakul or belacak in Malay) was used as a device for moving the story along. To break the cursed rock's spell, the supernatural rock manipulated Mak Minah's irrational craving for mudskipper's roe and drove her to make absurd choices that compromised her family's safety. Although the used-to-be prized fish is no longer a popular delicacy, it used to be equivalent to the sturgeon fish's roe, the caviar of the region. And in recent times, the local has found a different use for this amphibious air-gulping fish; not as gourmet treat, but male enhancement massage oil.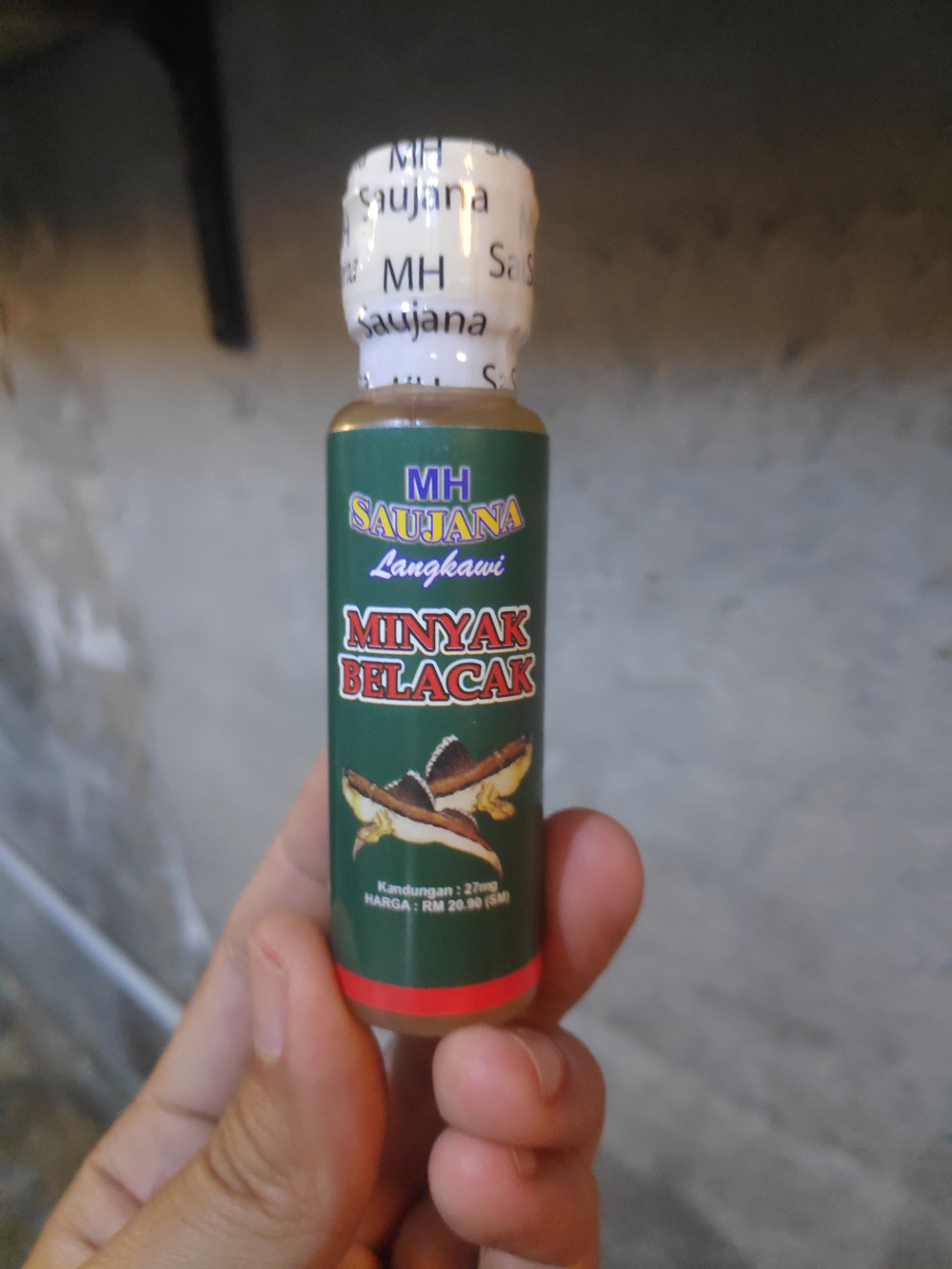 BKVGT opens on 14 December 2019 and will run until 7 January 2020. This exhibition is co-produced by Jamie Oon Muxian, in collaboration with The Back Room KL and hosted by Narrow Marrow (George Town). Exhibition visual collaterals by Tauras Stalnionis.

Hoo Fan Chon's practice involves exploring taste as a cultural and social construct, and the interdependent yet antithetical relationship between the dominant and the subservient, just like the mould and the cast. His works often involve investigating the process of cultural translation, in which attempts to translate or assimilate were made but at times result in an unexpected and incoherent manner.